tishrei holidays, Sukkot, Rosh hashana, Kippur, Souccot, tichri, roch hachana fetes
SUKKOT 2011
ROSH HASHANA 2011
Enjoy your holidays in Israel in apartments rental, with Sukka and Shul.
Opening season of outdoor swimming pool until end of Sukkot.
Beautiful and spacious Sukkah (souccah) in the garden of the residence and in several places in the marina of herzliya.
Rent holidays apartments for Sukkot near the beach. Apartments rentals with Sukka.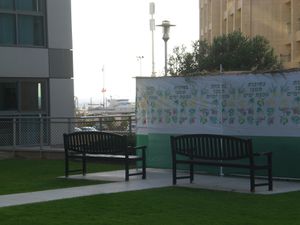 see list of the holidays apartments for rent for Sukkot 2011
Tishrei holidays in Israel.
Fetes de Tichri en Israel, dans des appartements de vacances de location,
Synagogue a proximite.
Les Fetes de Kipour, Roch Hashana et Souccot en Israel cette annee Soukka dans la residence.