In Tel aviv and in marina, our holidays apartments are located on the beach marina, and at 12 mn by walk to the beach of Tel Aviv, at the Charles clore beach, at the David intercontinental hotel beach and Dan panorama beach.
At the marina of Herzliya Pituah, our holidays apartments are located on the beach of herzliya, not on the beach of the Daniel Hotel, nor beach of the Dan accadia hotel, nor beach of the Sharon hotel, but on the beach of the SOUTH direction; beautiful sandy beach at only few steps with easy access ( no stairs) and free access. very clean and wonderful beach. Try it.
Of course you can go by walk to the herzliya north beaches of the hotel Dan Accadia Hotel, Sharon hotel and DAniel hotel, about 15 minute by walk/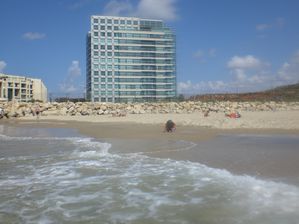 our apartments on the beach are located in the residence hotel okeanos ba marina, at hersilia.
About out apartment in Mandarin, it is on the HOF TEL BARUH Beach, in the NORTH OF TEL AVIV
Hof TEl BaRUH, on Tel Aviv's northern edge, bordering Herzliya, is the only beach that charges an NIS 12 entrance fee for adults (who do not have a Tel Aviv-Jaffa Resident Card) and NIS 8 for children, but because it does the facilities are nice and clean and it is not crowded, lending it a somewhat exclusive vibe.
There are two entrances to the beach – via Sea and Sun on the south, and near the Mandarin Complex on the north. You can access by walk to the beach, since the residence is on the beach.
The beach has two cafes, wide lawns, children's games and a lifeguard tower at the southern end. Visitors may also rent deck chairs.
An added bonus at Hof Hatzuk is that it provides an opportunity to start the day off right, with a peaceful breakfast accompanied by a stunning view of the beach. Patches of grass adorn the path down to the beach, adding to the pleasurable experience.
Most of the people who frequent Hof Hatzuk and Tel baruh beaches are families and youths from northern Tel Aviv and Herzliya. If you spend time there, you'll surely see young mothers with their babies, as well as youths who come by after school, or spend their summer vacation days there.
Tel Baruh is a favorite among many, making it somewhat crowded at times. It's one of the best beaches in northern Tel Aviv, especially if you're taking the kids.
For your children and your self There is also windsurf, surf, aquatic sport courses organised (fees) on the beach Tel Baruh.