Family Holidays In Herzliya: Wonderful Sport Area
In Herzliya, near the 7 stars mall, at less than 3 minutes by auto to the Okeanosbamarina Residence, there is a wonderful sportek area for children of all ages.
You can find numerous basket ball court, football court, tennis tables, omega, spiderman nets, toboggan, slide, swing, climbing. There is also an amazing roller skate area, modern and safe/
The place is free, and very well adapted to all your family: young children, teens. There is a snack bar, and you can ask for a ping-pong bat or basket ball, for free.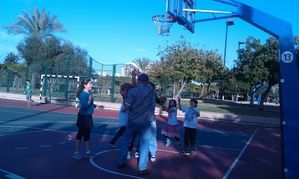 In the holidays winter season, you can go in the Herzliya sportek by day.
In the hot summer season, you can go in the sportek Herzliya later, even in the evenings.
It is a very nice complement to holidays on the beach and on the swimming pool.
How to arrive in the Sportek Herzliya from our holidays apartments in the marina of herzliya:
see map